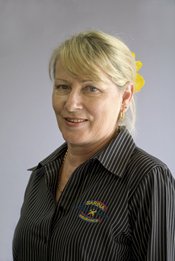 Marilyn is our Accounts Manager and also handles Personal Insurance, Claims and Processing. She has been with Rick and Barb at Sarina Insurance since March 2010. She joined the team at Sarina Insurance just as they made the transition from being Suncorp Agents to being Ausure Insurance Brokers.
Marilyn says, "I was initially employed primarily to do the Accounts for the business, and am proficient in MYOB. I have completed my Tier 2 Insurance Broking since joining the team at Sarina Insurance and I am quite enjoying the challenge of Insurance Broking combined with Accounts." I am primarily responsible for  our many rural clients, but also assist with claims and new business for houses and cars.
Late in 2014, Marilyn also completed her Tier 1 in Insurance Broking at the same time as Barbara.
BACKGROUND: I have come from mainly an Accounts Background, with my last job being Accounts Manager at a 90-bed private hospital in New Zealand for 3 years. Prior to that, I worked for QR Infrastructure Maintenance in Mackay for 5 years. I have also spent 3 years in Port Moresby doing office work for our own Construction Company building roads and drainage. Although living in Port Moresby was a challenge as far as security went, I did enjoy meeting and learning about the different cultures of the people of PNG.
INTERESTS: I am currently learning to play the guitar which I am finding quite enjoyable, reading, a bit of weight training combined with walking keeps me fit, and do like a nice cold glass of wine at the end of the day.